Méthode de caractérisation physico-chimique pour la sécurisation des procédés de fabrication des particules ultrafines et des nanoparticules
Since a few years ago, the nanotechnology industry has extended and the nanoparticles production has become very important. Thus the European research program Nanosafe2 has been initialised in order to assess the risk related to this production. Accidental and toxicological risks have been the main topics of interest. Indeed, the small size of these particles generates some confinement and protection issues. Moreover their health impact is poorly characterised. Our aim is to develop a method that is able to characterise the physical and chemical properties of nanoparticles in air matrix. In order to measure these particles characteristics, we have coupled both methods: the LIBS techniques (Laser Induced Breakdown Spectroscopy) based on a plasma spectroscopy method, and an electrical mobility analysis that implies the use of a DMA (Differential Mobility Analyser). The use of both of these techniques allows us to know direct information about the size, the concentration and the chemical composition of particles in air matrix. Some preliminary studies have been carried out on polydisperse salt aerosols, then monodisperse aerosols have been analysed, down to sizes around 40 nm. These first results show the ability of this kind of tool for on line nanoparticles measurement with a limit concentration of a few micrograms per cubic meter.
Depuis quelques années l'industrie des nanotechnologies est en plein essor et la production de nanomatériaux ne cesse de croître. Le travail présenté ici, se situe dans le cadre du projet européen nanosafe2 qui vise à étudier les risques liés à la production des nanoparticules. Les risques toxicologiques et accidentels sont particulièrement visés. En effet, la petite taille de ces particules pose des problèmes de confinement et de protection, de plus leur impact sur la santé est mal connu. Notre objectif est de développer une méthode de caractérisation physico-chimique de ces particules dans l'air et à l'émission. Pour cela nous avons couplé deux méthodes de mesure : la technique LIBS (Laser-lnduced Breakdown Spectroscopy) qui est une méthode d'analyse de plasma, et une technique basée sur l'analyse de mobilité électrique à l'aide d'un DMA (Analyseur de Mobilité Electrique). Le couplage de l'analyse de plasma avec un DMA nous permet d'obtenir, respectivement, une information directe sur la composition chimique et sur la taille des particules dans l'air. La faisabilité de ce couplage a été considérée dans un premier temps, sur la base d'aérosols de sels polydispersés, puis dans un second temps sur des aérosols monodispersés jusqu'à des tailles de 40 nm. Ces premiers résultats montrent la capacité d'un tel dispositif à mesurer des nanoparticles avec une limite de détection de quelques microgrammes par mètre cube.
Fichier principal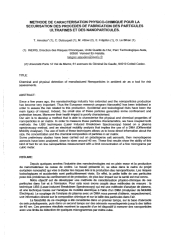 2006-289_hal.pdf (371.18 Ko)
Télécharger le fichier
Origin : Files produced by the author(s)