Uncertainty attached to the results of a calibrated AMS
The calibration of a method by comparison with the reference method is commonly used in metrology. If the reference method is supposed to give the true value of the measurand by convention, the uncertainty attached to the results may be rather high. If the uncertainty sources that influence the resuit are randomly contributing to the overall uncertainty of the method, this drawback can be overcome by carrying out several successive measurements, the uncertainty attached to the average value being equal to that of a simple measurement divided by a factor 1/Vn. However, if the reference method is not described accurately enough and influent parameters not ail identified, its implementation may lead to systematic deviations between laboratories Thus, several manual reference methods prepared by CEN working groups have led to confidence intervais of reproducibility higher than expected : e.g. 20% for the manual method for SO2 (EN 14791) determinations. The following question then arises: is it still relevant to use such methods to calibrate an AMS and to check if its variability is acceptable, according to EN 14181? Directives 2001/80/CEE and 2000/76/CEE fix a maximum uncertainty of 20% at the limit value for AMS measuring SO2 and 30% for particulates... The presentation shows how to calculate the uncertainty attached to the results of a calibrated AMS on the whole measuring range and how the uncertainty of the reference method affects the quality of the QAL2 and consequently what is the maximum acceptable uncertainty for the SRM.
L'étalonnage d'une méthode par comparaison avec la méthode de référence est souvent employé en métrologie. Si la méthode de référence est censée donner la valeur vraie du mesurande par convention, l'incertitude attachée aux résultats peut être plutôt élevée. Cet inconvénient peut être surmonté aisément en effectuant plusieurs mesurages successifs dans le cas où les sources d'incertitude influençant le résultat du mesurage contribuent aléatoirement à l'incertitude globale de la méthode. L'incertitude attachée à la valeur moyenne sera ainsi égale à celle d'une mesure simple divisée par un facteur 1/Vn; Cependant, si la méthode de référence n'est pas suffisamment bien définie ou les facteurs d'influence mal connus, la mise en oeuvre de la méthode peut mener à des écarts systématiques de mesurage entre laboratoires. Ainsi les essais de validation de plusieurs méthodes de référence manuelles par les groupes de travail du CEN ont conduit à des incertitudes de reproductibilité plus élevées qu'escomptées : 20% pour la méthode manuelle pour la détermination du SO2 (en 14791). La question suivante se pose alors : l'usage de telles méthodes pour étalonner les AMS et vérifier si leur variabilité est acceptable selon les exigences de l'EN 14181, est-il pertinent? Les directives 2001/80/CEE et 2000/76/CEE fixent une incertitude maximum de 20% et 30% à la valeur limite pour la mesure par un AMS du SO2 et des poussières respectivement... La présentation montre comment calculer l'incertitude attachée aux résultats d'un AMS étalonné sur la gamme de mesure et comment l'incertitude de la méthode de référence affecte la qualité du QAL2 et par voie de conséquence quelle pourrait être la limite acceptable d'incertitude pour la SRM.
Fichier principal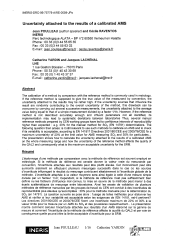 2006-015_hal.pdf (1.35 Mo)
Télécharger le fichier
Origin : Files produced by the author(s)