Use of commercial sphagnum to estimate the geographic impact of a battery of recycling plant
A technique of biosurveillance (moss-bags) is used to evaluate thé heavy metal depositions (lead, cadmium, arsenic, barium and antimony) around an industrial source. The results are compared with those obtained by the use of gauges of sedimentation and by modelling of the emissions from stacks. The moss-bags prove to be as good qualitative tools as the gauges of sedimentation. It also appears that the moss-bags have a greater effectiveness to collect the atmospheric depositions than the gauges of sedimentation and that, in spite of a smaller surface of exposure. Fifteen days duration is sufficient to collect quantifiable levels of lead, cadmium, antimony and barium, in the moss-bags placed in the vicinity of the studied site. However, the speed of accumulation of heavy metals in the moss-bag does not seem to be constant in time. This makes delicate the comparison of results of campaigns carried out over different durations and perhaps periods. This study validates the use of sphagnum mosses of culture to make some moss-bag, thus mitigating the difficulty of provisioning related to the use of "natural" sphagnum mosses. The use of this technique, that requires a minimum number of measuring points, made possible a quick evaluation of the site's contribution in lead, cadmium, arsenic and antimony, deposition measured in its vicinity. In comparison, the modelling of exhaust gases and particulates of the site provided incomplete qualitative information because of the presence of diffuse sources. This tool of powerful qualitative survey (confidence interval reduced, cost effective, ease of use, discrete, light technique) can bring essential information where other approaches are more uncertain (modelling in degraded situation) or require to be optimised (standardized quantitative methods).
Une technique de biosurveillance (moss-bag) est utilisée pour évaluer les retombées de métaux lourds (plomb, cadmium, arsenic, baryum et antimoine) autour d'une source industrielle. Les résultats sont comparés à ceux obtenus par l'utilisation de jauges de sédimentation et par modélisation des rejets canalisés. Ces essais sont réalisés en parallèle autour d'un même site de seconde fusion du plomb. Les moss-bag se révèlent être d'aussi bons outils qualitatifs que les jauges de sédimentation. Il apparaît également que les moss-bag ont une plus grande efficacité à capter les retombées atmosphériques que les jauges de sédimentation et cela, malgré une surface d'exposition plus faible. Une durée de quinze jours est suffisante pour recueillir des niveaux quantifiables de plomb, de cadmium, d'antimoine et de baryum, dans les moss-bag placés au voisinage du site étudié. De plus, la hiérarchisation des points de retombées obtenue est équivalente voire plus fine (plus de niveaux différenciés) que celle déterminée au moyen de jauges au bout de trente jours. Cependant, la vitesse d'accumulation des métaux lourds dans les moss-bag ne semble pas être constante dans je temps. Ceci rend donc délicate la comparaison de résultats de campagnes réalisées sur des durées différentes et peut-être même des périodes différentes. La coupure granulométrique et la sélectivité des moss-bag restent également mal connues. Cette étude permet également de valider l'utilisation de sphaignes de culture pour concevoir les moss-bag, palliant ainsi la difficulté d'approvisionnement liée à l'utilisation de sphaignes "naturelles ". L'utilisation de cette technique de cette technique a permis d'évaluer rapidement la contribution du site aux teneurs de plomb, cadmium, arsenic et antimoine, mesurées à son voisinage. En comparaison, la modélisation des rejets canalisés du site a fourni une information qualitative incomplète du fait de la présence de sources diffuses. Cet outil de sondage qualitatif performant (intervalle de confiance réduit, coût de mise en oeuvre faible, simplicité d'utilisation, technique discrète, légère) peut apporter une information essentielle là où d'autres approches sont plus fragiles (modélisation en situation dégradée) ou nécessitent d'être optimisées (méthodes quantitatives normalisées). Cependant, une campagne de mesure utilisant une méthode de biosurveillance active, doit intégrer, dès sa conception, un minimum de points de contrôle (blanc de site, témoin, détermination de l'intervalle de confiance).
Fichier principal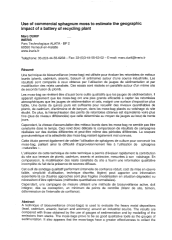 2006-014_hal.pdf (992.46 Ko)
Télécharger le fichier
Origin : Files produced by the author(s)