Etude de la vulnérabilité du bâti soumis aux conséquences des affaissements miniers
Recent mining subsidences that took place at the end of the 1990s in the iron-ore field cause building damage and put the emphasis on some problems. In particular, is it possible to estimate building vulnerability which is located on ground which may subside? Previous works in this domain, in addition with an own statistical study performed on observations collected in the iron-ore field, a new methods is offered. This is inspired by well-known seismic methods in order to increase its accuracy and pertinence.
Les récents affaissements miniers qui se sont produits à la fin des années 90 dans le bassin ferrifère lorrain ont été à l'origine d'importantes dégradations du bâti. L'existence d'ouvrages miniers abandonnés en grande quantité nécessite d'élaborer des méthodes permettant d'évaluer la vulnérabilité des enjeux. A partir des travaux déjà réalisés dans ce domaine, ainsi que d'une analyse de données sur les dégradations observées dans le bassin ferrifère lorrain, une nouvelle approche est proposée. Cette approche s'inspire des méthodes employées dans le domaine sismique pour aboutir à une prise en compte de l'intensité du phénomène et de la diversité des constructions de manière plus pertinente et précise.
Fichier principal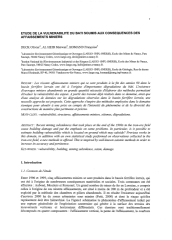 2003-011_hal.pdf (1.19 Mo)
Télécharger le fichier
Origin : Files produced by the author(s)