Modèle d'évaluation quantitative des risques liés au transport routier de marchandises dangereuses
This study presents the QRA-model (Quantitative Risk Assessment), which is able to produce quantitative assessments on the levels of risk due to the road transports of dangerous goods through given routes and tunnels. Fatalities were retained as main criteria to assess the risk. To determine the global risk, the model plots curves F/N which indicate the annual frequency F to have N fatalities or more. It also calculates the individual risk for the permanent populations: annual frequency of the risk to die because of the Dangerous Goods, for a person remaining permanently at a given place.
L'article présente le modèle EQR (Evaluation Quantitative des Risques), qui permet de produire des informations quantitatives sur les niveaux de risque dû au Transport de Marchandises Dangereuses (TMD) sur des itinéraires routiers donnés, certains d'entre eux pouvant comprendre des tunnels. Le nombre de morts a été retenu comme critère principal pour quantifier le risque. Pour déterminer le risque sociétal, le modèle trace des courbes F/N qui indiquent la fréquence annuelle F d'avoir N morts ou plus. Il calcule également le risque individuel pour les populations permanentes : fréquence annuelle du risque, pour une personne restant en permanence à un endroit donné, de mourir à cause du TMD considéré.
Fichier principal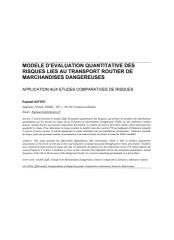 2001-071_hal.pdf (351.84 Ko)
Télécharger le fichier
Origin : Files produced by the author(s)