Etude des conséquences des affaissements miniers sur le bâti par la modélisation numérique
Mining subsidence generates great displacements of the ground surface which may be responsible of building damage. Estimation of ground displacements are well-known but their transfer to the structure need more studies. We will first present different numerical strategies for the take into account of soil-structure interaction. Then we will present a global finite element model which allowed us to study behaviour of different kind of structures. In particular we show some results for a rigid structure (raft) and for a soft one (framed structure).
Les affaissements miniers, en provoquant d'importants déplacements de la surface des terrains peuvent être à l'origine de dégradations dans les structures. Si la prévision des mouvements du terrain est bien acquise, celle de leurs transferts aux ouvrages l'est nettement moins. Après une étude des différentes possibilités de modélisation du problème pour prendre en compte les phénomènes d'interaction sol-structure, nous présentons un modèle global de type éléments finis. Ce dernier nous a permis d'étudier le comportement de différents types de structures. En particulier, nous montrons les résultats de calculs pour une structure rigide (radier) et une autre plus souple (portique).
Fichier principal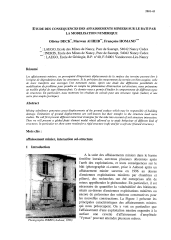 2001-043_hal.pdf (665.37 Ko)
Télécharger le fichier
Origin : Files produced by the author(s)