3D numerical modelling of underground excavations in a faulted rock mass using the Boundary Elements Method (BEM)
This paper presents a 3D-numerical modelling technique for underground excavations in a faulted rock mass. The displacement discontinuity method is used to solve the differential equation of the problem. A presentation of this method is given in the first part of the paper. The second aspect of this paper is concerned with the verification of the new code by comparison with the results obtained from commercial numerical codes UDEC (distinct elements) and CESAR (finites elements). Case study involving a coal mining panel excavation in a faulted rock mass is presented to demonstrate the application of the code to practical mine problems.
Ce papier présente le développement d'un code de modélisation numérique permettant de calculer les contraintes induites par une exploitation souterraine en présence de failles. La méthode des discontinuités de déplacement est utilisée pour résoudre l'équation différentielle du problème. Une présentation de cette méthode et son utilisation pour modéliser des veines et des failles sont présentées dans la première partie de cet article. Ensuite, une vérification de ce code, par comparaison aux codes de calculs UDEC (éléments distincts) et CEASR (éléments finis), est proposée. Enfin, une étude de cas portant sur l'exploitation d'un nouveau panneau en présence de failles dans la mine de Provence (Sud de la France) est menée pour confronter les résultats obtenus à un cas réel.
Fichier principal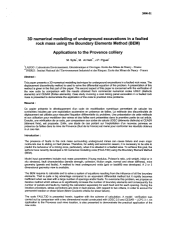 2000-051_hal.pdf (671.85 Ko)
Télécharger le fichier
Origin : Files produced by the author(s)