Détection et surveillance des zones surcontraintes par des méthodes sismo-numériques
Detection and monitoring of high stress concentration zones induced by coal mining at a depth of 1250 meters in Lorraine Collieries, are carried out by coupling numerical and microsismic methods. Estimation of changes of state of stresses induced by coal mining is carried out by using of numerical modelling. Location and monitoring of high stress concentration zones are obtained by a local microsismic network. The study of microsismic activity recorded during coal mining made it possible to locate high stress concentration zones and to validate results from numerical modelling. The results of this study open interesting prospects with regards to coupling numerical and microsismic methods as a means of detection, location and monitoring of the zones prone to rockbursts.
La detection et la surveillance de zones surcontraintes induites par l'exploitation de charbon à 1250 metres de profondeur aux Houilleres du Bassin de Lorraine sont effectuées à partir d'un couplage entre les méthodes numérique et microsismique. L'estimation des modifications de l'état de contraintes ibnudites par l'exploitation est réalisée par des simulations numériques. La localisation et la surveillance des zones surcontraintes sont effectuées par des réseaux microsismiques locaux. L'étude de l'activité microsismique enregistrée lors de l'exploitation a permis de localiser les zones surcontraintes et de valider les calculs effectués par modélisation numérique. les résultats de cette étude ouvrent des perspectives intéressantes en ce qui concerne le couplage de la modélisation numérique et de l'écoute microsismique comme moyen de détection, de localisation et de surveillance des zones à risque de phénomènes dynamiques.
Fichier principal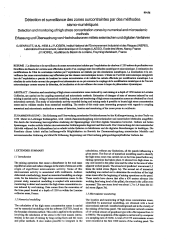 1999-056_hal.pdf (717.91 Ko)
Télécharger le fichier
Origin : Files produced by the author(s)