Evaluation du risque sanitaire dans l'étude d'impact des installations classées pour la protection de l'environnement (ICPE) : principes méthodologiques et retour d'expérience
Changes in French regulatory procedures since the mid-1990s have begun to require consideration of the impact on human health of industrial installations, to be formulated as a Health Risk Assessment (HRA). The objectives of this article are to report the methodological framework of the HRA in environmental impact studies and the feedback we have acquired from our experience with its application before and after 2000. Various publications now offer methodological guidelines for HRAs. INERIS proposes an iterative process that flows logically from the application of the principle of proportionality, combined with the principles of scientific prudence, transparency and specificity. Before 2000, the absence of structured procedures was notable in environmental impact studies. This formal and substantive lacuna helped maintain the confusion between the concepts of hazard, exposure and risk. These studies also lacked transparency. Finally, all too often, we observed mismatches between metrology and toxicology and toxicology and exposure. By the beginning of 2001, although basic problems persist, HRAs follow, at least in their format, a nearly systematic procedure. The principal reasons for the progress that has been made are the national guidelines, the information and training campaigns, the working groups for different industrial sectors and substances as well as the emergence of centers of excellence. These efforts deserve to be continued; in particular transversal collaborations between the various actors should be formalized on a long-term basis. To learn lessons from past mistakes involves understanding the need for risk analysts to make their points clearly to the public. An interface must still be built between risk assessors and risk managers. These constraints require a predictive and informative approach, accompanied by training, dialogue, motivation, sensitization and accountability.
Les processus réglementaires français évoluent depuis le milieu des années 1990 en regard de la prise en compte de l'impact sur la santé humaine des installations classées pour la protection de l'environnement. L'émergence des questions de santé environnementale a amené à formuler une réponse en termes d'Évaluation du Risque Sanitaire (ERS). Les objectifs de cet article sont de faire le point sur le canevas méthodologique de l'ERS dans l'étude d'impact et le retour d'expérience concernant son application avant et après 2000. La méthodologie d'application de l'ERS figure maintenant dans différents guides nationaux. Ainsi, l'Ineris propose un processus itératif qui découle de l'application du principe de proportionnalité, allié aux principes de prudence scientifique, de transparence et de spécificité. Avant 2000, on constate dans les études d'impact l'absence de démarche structurée. Cette lacune sur la forme et le fond entretient la confusion entre les notions de danger, d'exposition et de risque. On note par ailleurs un manque de transparence des dossiers ainsi que de nombreuses inadéquations entre métrologie et toxicologie, d'une part, et toxicologie et exposition, d'autre part. Début 2001, on constate que la démarche d'ERS apparaît de façon quasi systématique sur la forme, même si des problèmes de fond persistent. Les guides nationaux, les campagnes d'information et de formation, les groupes de travail par secteur industriel ou par substance ainsi que l'émergence de pôles de compétence sont les raisons principales du progrès. Ces efforts méritent d'être poursuivis, en particulier avec la mise en place de collaborations transversales formalisées et durables entre les différents acteurs concernés. Tirer les leçons du passé, c'est aussi comprendre qu'un affichage clair des analystes du risque vis-à-vis du public est nécessaire. L'interface reste à construire entre les évaluateurs et les gestionnaires du risque. Cela implique une approche prédictive et informative ainsi que des actions de formation, concertation, motivation, sensibilisation et responsabilisation.
Fichier principal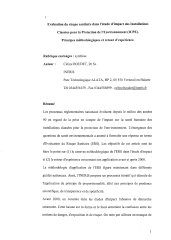 2002-169_post-print.pdf (970.45 Ko)
Télécharger le fichier
Origin : Files produced by the author(s)