Modélisation de la perturbation de la synthèse des hormones ovariennes par les produits chimiques chez les mammifères
A finely tuned balance between estrogens and androgens controls reproductive functions, and the last step of steroidogenesis plays a key role in maintaining that balance. We know by now that some environmental contaminants may have endocrine disrupting effects. Interfering with steroidogenic enzymes, for example, may influence steroid secretion and thus lead to reproductive toxicity. Yet, predictions of such toxic effects on the basis of in vitro data are a challenge, because the complexity of the endocrine system is not yet captured by in vitro assay systems. To predict hormonal balance disruption on the basis of data on aromatase activity and mRNA level modulation obtained in vitro on granulosa cells, we developed a mathematical model for the last gonadal steps of the sex steroid synthesis pathway. The model can simulate the ovarian synthesis and secretion of estrone, estradiol, androstenedione, and testosterone, and their response to endocrine disruption. The model was shown to correctly predict ovarian estradiol concentrations after exposure of female rats to atrazine and letrozole.
Ces dernières années, des études épidémiologiques menées dans différents pays ont montré une augmentation d'incidence de certaines affections, telles que des altérations des fonctions de reproduction et des cancers hormono-dépendants. Le rôle des hormones stéroïdes sexuelles dans ce type d'affection est établi depuis longtemps par l'étude de modèles animaux. Par ailleurs, certains produits chimiques, dits perturbateurs endocriniens (PE), sont capables d'interférer avec la synthèse de ces hormones et affectent expérimentalement la capacité de reproduction des animaux. Il est donc important de pouvoir prédire, avant toute exposition humaine, la capacité des produits chimiques à perturber les cycles hormonaux naturels. Cependant, les tests in vitro - rapides et dispensant de l'expérimentation animale - ne sont pas capables de mimer la complexité des régulations hormonales in vivo. C'est pourquoi l'INERIS, dans le cadre d'une thèse menée par Nadia Quignot, s'est intéressé dans une première étape au couplage de modèles mathématiques et de l'expérimentation in vitro pour la prédiction des effets de PE sur un mammifère, le rat. Les modèles sont censés tenir ici le rôle intégrateur que les relations entre cellules, tissus et organes jouent dans le corps entier. Ces modèles doivent donc être capables de simuler la réponse d'un organe ou d'une fonction (ici la synthèse d'hormones stéroïdes) sur la base des perturbations observées in vitro au niveau de simples cellules. Aux États-Unis, l'EPA (Environmental Protection Agency) a mis en place un programme de recherche similaire sur le poisson pour prédire les effets des PE sur les écosystèmes aquatiques.
Fichier principal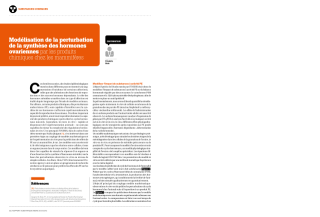 2013-493.pdf (183.78 Ko)
Télécharger le fichier
Origin : Publication funded by an institution