Libération et migration du méthane depuis le charbon dans un contexte hydrogéologique post-minier : développement d'un protocole expérimental et approche numérique
Mine flooding generally occurs after mine closure due to the end of mine water pumping. Several gases are naturally drained from coal to mine workings, even after end of extraction. Depending to the context, some of them may constitute a hazard for population living on surface. The paper presents a protocol dedicated to the characterisation of methane desorbed from coal structure as well as its migration through flooded mines and up to the surface.
La plupart des mines souterraines ont été creusées sous le niveau des nappes phréatiques. Pour permettre leur exploitation, d'importants moyens d'exhaure permettaient d'éviter l'ennoyage des travaux miniers. La fermeture des mines est suivie par l'arrêt de ces pompages et, par conséquent, par l'ennoyage progressif des vides miniers. L'atmosphère souterraine présente au sein des chantiers est constituée d'un mélange d'air en provenance de la surface et de gaz émanant des roches. Dans le cas de mines de charbon, le gaz désorbé (grisou) est souvent très riche en méthane, un gaz inflammable. Durant l'exploitation, une ventilation forcée des travaux permet de garantir une évacuation satisfaisante de ce gaz et de fournir aux mineurs une atmosphère respirable et sécurisée. Après la fermeture de la mine, cette ventilation est arrêtée, mais le grisou continue pour sa part à se désorber du charbon, même si les flux mis en jeu sont considérablement réduits. Ce gaz peut, dans certaines configurations défavorables, constituer un risque pour les populations et les installations présentes en surface. De précédents travaux ont montré l'effet inhibiteur de l'ennoyage sur l'émission de gaz de mine en surface à court terme. Pourtant, la poursuite de désorption du gaz ainsi que sa migration à long terme au sein des travaux miniers ennoyés s'avèrent très mal connues. Les travaux de thèse réalisés par Nils Le Gal à l'INERIS, en collaboration avec le Centre de géosciences de Mines Paris Tech, ont consisté à développer une approche expérimentale de la libération du méthane depuis un échantillon de charbon ennoyé couplée à une approche numérique de la migration du méthane dissous au sein des anciennes structures minières.
Fichier principal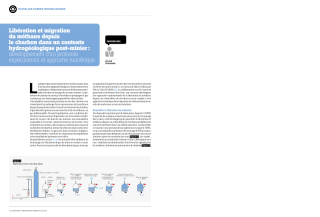 2013-484.pdf (281.03 Ko)
Télécharger le fichier
Origin : Publication funded by an institution